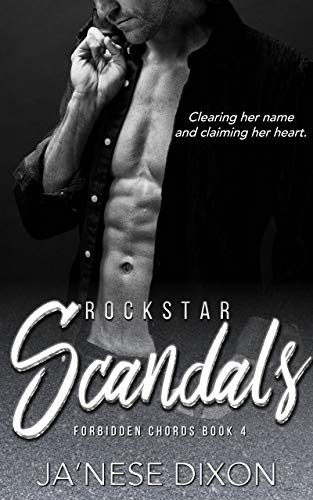 "Where Words Fail, Music Speaks"…
Sex. Music. Romance. What's not to love, right?! Romance, to me, is life set to beautiful music, encompassing lyrics and beats that coincide with the ups and downs of falling in love, finding connections, and soulmates, all with crescendos and diminuendos of conflicts and haters. Too much?! Sorry…
This author did some interesting things with this story. What I loved from the jump was being able to become more familiar with the ins and outs of a hot and talented record company like Rockstar Entertainment. There were a lot of behind-the-scenes talent scouting/contests, studio & collaborative creativity, and all the owners, producers, finance & marketing managers working in tandem to have a most successful music dynasty.
As a very sexy couple, Devin and Lyrik (Mia) were both so talented in what they did for Rockstar Entertainment. Their chemistry was absolutely undeniable, and I really felt that "pull" between the two of them. I loved their vulnerability, too, as both also came along with their own personal baggage. If the story was a little longer, I think the author would have dug deeper into the family drama that had Devin shying away from lasting relationships, and maybe possibly given us some interactions with his father. It wasn't hard to see that Devin being the jokester or "life" of the group was his way of putting up walls to protect his heart. I would have loved more fleshing out with Devin's character and background on his family.
With Lyrik aka Mia, my heart broke knowing that she was hiding away because of something as asinine as what her ex did, and that it had such a powerful and dramatic effect on her family. She had that special kind of "raw" talent—a "star" quality—that couldn't or shouldn't have been taken away by some scandalous tape. I loved the way the words of her music came from deep within her soul. That's the kind talent that can't be stifled or hidden away because its origins is from personal experiences, life lessons, and emotional memories. Women have it so hard, too, because we're always more likely to be accused more than our male counterparts of using our physical "assets" to get ahead–as if it's impossible for a woman to have brains, talent, and beauty. Mia/Lyrik should have really rocked that spotlight for all it was worth and proved to all the haters and doubters that her soul, talent, and creativity was exactly what got her to where she was in the music industry.
What I also enjoyed about this story was the dynamic of Devin and Mia/Lyrik, as well as that of the other characters. Rockstar Entertainment was more than just about making records and making money. It was about people coming together from different backgrounds and forming a family that thrived on cultivating each other's talents, rather than using each other because of their talents. And they all truly had each other's backs. I came to this series at the tail end—literally—as I haven't had the opportunity of reading the other books. Ja'Nese Dixon is a new-to-me author, and it was a pleasure getting to know her through her words and unique writing. I love being introduced to new and talented authors. I do feel that this story really just scratched the surface of something more. I was truly intrigued by Devin and Mia/Lyrik and did not want their story to end. I needed–and wanted–more time with this couple because I believe that things with them were so much deeper, so much more profound. It would have been such an amazing ride exploring that with them.
What are YOUR reading? What should WE read next?
Tell us in the comments.