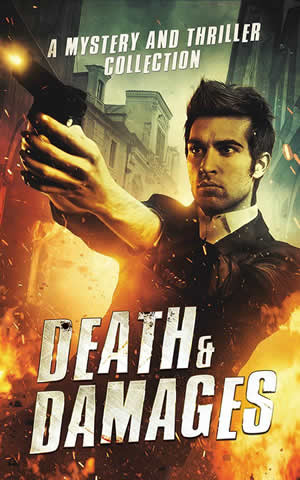 Do you love thrilling whodunnits? Cozy mysteries? Sizzling suspense with dangerous twists and turns?
They each had secrets; one of those secrets got them all killed.
(Burning Secrets by Jane Blythe)
Two detectives hunt a serial killer, but the killer's hunting them.
(Double Blind by Dan Alatorre)
Sometimes imaginary enemies are the most deadly. 
(Grayout by Bill Hargenrader)
DEATH AND DAMAGES offers page-turning tales starring courageous cops, adventurous agents, daring detectives, and snooping sleuths that will keep you guessing to the very end.
You'll find 24 exciting escapades full of captivating conundrums, hair-raising homicides, and page-turning adventures from USA Today & Wall Street Journal Bestselling and award-winning authors.
Whether you love bone-chilling suspense and cold-blooded killers, or an entertaining whodunnit that tickles your brain, you'll find the escape you've been seeking in this enthralling mystery and thriller boxed set. 

Fans of Lee Child, James Patterson, Gillian Flynn, Paula Hawkins, and John Grisham will devour these puzzling mysteries and gripping thrillers.
Secure this action-packed limited edition collection! Order today.
EDITOR'S NOTE: This is a boxed set. There are several books inside with multicultural characters, including BWWM romances.