This week we're featuring the Destiny Series by author Beverly Jenkins.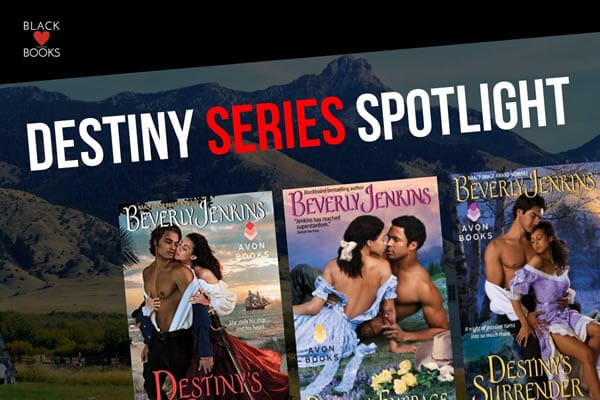 BOOK 1: Destiny's Embrace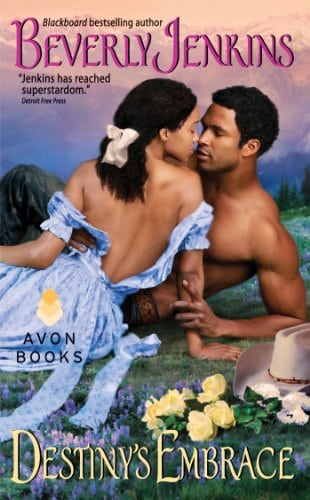 Award-winning romance author Beverly Jenkins offers up another high-stakes historical romance that is sure to make you swoon.
With Destiny's Embrace, Jenkins brings readers back to the American West, where Logan Yates, a self-important ranch owner, must confront his feelings for his beautiful, free spirited housekeeper, Mariah Cooper. While they bicker incessantly, their sexual tension is palpable, and only rises when Mariah's former lover arrives on the scene. Will she accept Logan's heart?
Set in 19th-century California, Destiny's Embrace features unforgettable characters and a satisfying mix of adventure and passion from nation's premier writer of African-American historical romance.
Book 2: Destiny's Surrender
The child he didn't know he had . . .
Andrew Yates has come to a decision: it's time to stop sowing those oats and start a family. But searching for a bride isn't as simple as he'd hoped, and many of the respectable women of his acquaintance feel . . . lacking. Then beautiful, feisty Wilhelmina "Billie" Wells arrives at the family ranch with a toddler in her arms, claiming Drew is the father!
The woman he didn't know he loved . . .
Billie had no choice but to show up at Destiny in search of Drew. For the sake of their child, she's willing to leave him with his father so the boy can have a better life, but then, before she can blink, she's saying "I do" in front of a preacher in a marriage of convenience. All Billie and Drew have in common is the heat that brought them together, but can their sizzling passion lead to an everlasting love?
Book 3: Destiny's Captive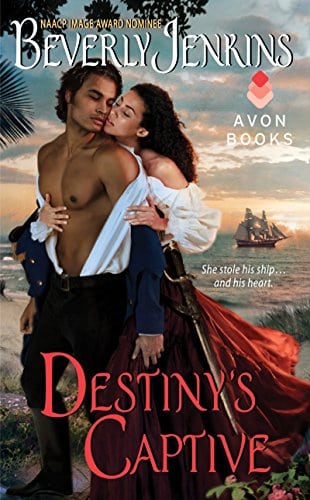 In national bestselling author Beverly Jenkins' Destiny series, the Yates men play hard and live hard. And when they find that special woman, they fall hard . . .
Noah Yates fully believes in the joys of a happy family and a good wife. But that's not the life for him. No, he would much rather sail the wild seas in search of adventure, not tied down. But then the unthinkable happens . . . he finds himself literally tied down. To a bed. By a woman.
And Pilar isn't just an ordinary woman. She's descended from pirates. And after giving him one of the worst nights of his life, she steals his ship! Now Noah is on the hunt, and he'll stop at nothing to find this extraordinary woman . . . and make her his.
Beverly Jenkins is the recipient of the 2017 Romance Writers of America Nora Roberts Lifetime Achievement Award, as well as the 2016 Romantic Times Reviewers' Choice Award for historical romance. She has been nominated for the NAACP Image Award in Literature, was featured both in the documentary "Love Between the Covers" and on CBS Sunday Morning. Since the publication of Night Song in 1994, she has been leading the charge for multicultural romance, and has been a constant darling of reviewers, fans, and her peers alike, garnering accolades for her work from the likes of The Wall Street Journal, People Magazine, and NPR.